For 20 years, Technasia aka Charles Siegling, has been kicking it at the top of the electronic pile.
The French DJ, producer and spectacular live performer combines many different influences in the music he makes, and has been on a constant evolution through techno, house and everything in between. He has headlined every major festival and club, has run a number of labels and primarily releases on Sino and Technasia. he has also released three fine full lengths and in the modern era continues to work with the best of the best. Right now he has a massive collaboration with Green Velvet just about to drop, and it is the sort of monstrous, floor saying main room track that he has excelled at making all his life.
We caught up with him to talk about collaborating with UNER, his Ibiza season for 2015, and all about that new hook up with Green Velvet.
What's the thing you are most proud of in your career?
To still be here kicking it 20 years after I started!To be honest, I think it's quite easy to make a breakthrough in the electronic music world, as long as you have a certain talent for DJing or music production. The most difficult part is to be there to stay and grow. That is not given to everybody I think. It requires a lot of hard work, to be surrounded by a good team, and being able to reinvent yourself from time to time.
Do you still set yourself goals, do you have things you would like to achieve?
Making your way in this music world is a goal in itself, and a pretty tough one I would say. The market has become highly competitive amongst DJs because everybody think they can be one. The wrong approach is always to take the electronic music world as a hobby, forgetting that it's above all a work.
What is your dream gig, where is it, how big is the crowd, is it in side or outside, how long would the set be?
I don't have a dream gig to be honest. I'm always very happy if the crowd and the promoter are. I'm able to do that most of the time, so I'm living my dream gig on a regular basis hehehe…
How do you enjoy touring and playing the world solo compared to when you were in a duo? What's better, what's worse about it?
To be fairly honest with you, when I separated with my former partner in Technasia I wasn't sure what my future would be. I mean I've always had a great and supporting team around me, but it's true that I was going a bit in the unknown. Now that a few years have passed, I must definitely say that that I completely overcome that and I really enjoy touring solo more than when we were a duo. I'm in complete control of what I do, for the better or the worst of course.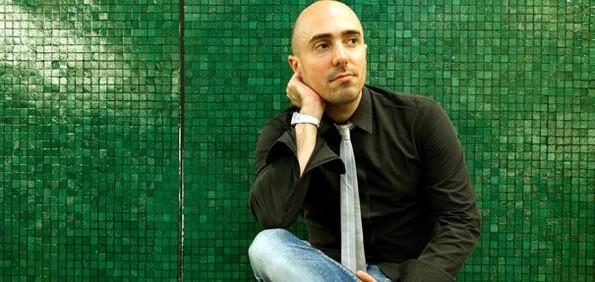 Do you think dance music should have a social and political conscious in anyway, like it used to when it first emerged, or has it changed into something else now?
If it has evolved to a different path than when it first emerged, I'd say that electronic dance music has just followed its natural course. It might just be the people working in it that have shaped it into something different, an industry now very focus on the financial power it can generate, or maybe it's just what the actual public wants it to be… Nevertheless, I think it still remains a very diverse, creative and interesting art form, with probably the widest exposure to the general public ever. The best part is that there's space for everybody in it, all kinds of artists, from the most obscure and avant-garde artist to the most commercial and formatted artist. And please don't believe I like that kinda shit! The great thing about electronic music is that we've all always lived together happily, with sometimes some us even jumping the barriers, but this diversity and balance just feel great and right to me.
Do you find yourself producing sunnier, happier music during summer or does it have the adverse affect or?
I actually do not produce during the summer, for diverse reasons. First, it's nice weather outside, wherever you live in the north hemisphere. So do you really want to get stuck for 10 hours in a dark isolated boring room, unless maybe some nerds. The second reason, and probably the most important, is that with all the touring, it's pretty hard to actually focus on making production and be at the same time in a frame of mind of touring. It might sound cool to actually have your own home studio in Ibiza, but to be honest, I'm pretty sure that I would just end up listening to my weekly promos in it and nothing else…
How much does playing out constantly affect music making – is it easier because you know what works, or harder because you have less time to focus in the studio?
I think it makes it more difficult, because the more you play, the more you might lock yourself into one particular genre, that people will know you for. They will expect you to produce THAT style, so if you don't deliver it in that way, they might be disappointed with the result.
I mean, would you expect Depeche Mode to produce a complete Reggae album, as cool and good as it would sound? Indeed, getting out of "touring sound" for your own productions is quite a big challenge, and not many artists are actually capable of doing it with brio…
What was the last record you heard that made you stop and think wow? Does that happen very often any more? Does house music have the potential to shock still, do you think?
Let me ask you this question: do scary movies still scare you? So, yes house music and techno still have the potential to shock I think. They have done it 30 years now, and I don't see how they're not gonna keep on doing it. It's just about how producers can dig into what's inside themselves, and come up with fresh ideas or super nicely wrapped stuffs. The opinionated internet makes everybody becomes bored after 10 seconds of listening or viewing something, but if you try to look at things with a neutral or different view, you'll see that actually electronic music production is doing great right now in terms of quality, diversity and originality.
Do you think the true art of DJing is getting lost with shorter sets and with the advent of the sync button etc?
This is a false topic, which will probably just please some nerds at RA, because there's no "true art of DJing". There's simply hard work and talent. That some kids call themselves DJs because they have a cracked Traktor, a controller and got 1000 tracks of a download site? Yeah that's lame. But when you work your ass off throughout the years to develop your own sound and style, your own skills, that it makes you earn your crowd and other DJs' respect little by little, that is probably what one could call the true art of DJing
What else have you got coming up this year?
Nex up is the follow up to I Am Somebody. Driving beats, full of guitar riffs and kick ass Green Velvet vocals, I'm really looking forward how the track is gonna do. I don't release a lot of tracks, but when I do, I make sure it's always a bomb.